GM
At the request of his students, Khentrul Rinpoche comes to Connecticut each year, giving the shoreline community a rare opportunity to connect with an authentic spiritual lineage and teacher. The sangha also gathers to watch live video streaming events. Since 2003 he has helped those who have studied with him to develop a foundational understanding of buddhism. He has taught from classic texts on the topics of compassion, wisdom, mind training, and meditation practices. Join our email list to get notices of all teachings.
ALL ARE WELCOME 
*********************
Rinpoche is Offering an Another Live Webcast!!!!
The HEART ESSENCE of INTERDEPENDENT ORIGINATION mantra
MARCH 6-7, 2021 
See Katog Choling's website for details and to register. 
______________________________________________
PAST EVENTS
April 13 & 14, 2019—Water's Edge Resort, Westbrook, CT
We suffer because we lack the the skills needed to enable our minds to remain profoundly undisturbed in the face of change and challenge. As human beings, we have the innate potential to learn, develop, refine and perfect these skills explicitly revealed to us by the Indian saint Shantideva in his The Way of a Bodhisattva (Bodhicharyavatara), one of the most revered poetic treasures of Buddhist literature. 
Khentrul Rinpoche's teaching will focus on the sixth chapter elucidating a practice called patient forbearance that reduces our mental afflictions. This wisdom combined with Khentrul Rinpoche's keen insight into the western mind and our modern dilemmas is a wish-fulfilling jewel that enables us to make a difference in our lives and others.
  ______________________________________________________
"Daily Life as Practice: How to Train in all Situations" with 

Paloma Landry, 
September 22 – 23, 2018 at Katog Vajra Ling Dharma Center, Guilford, CT
Paloma Landry, Rinpoche's translator, will join us in September to go over the key points of each section extracted from the teachings Rinpoche has given us. 
This will be an integrative workshop. We will discuss these key points and also open space for people to contribute. We'll welcome personal stories and examples of how we are applying the practices in our lives, including both the challenges and the successes. 
Following the weekend, there will be a supportive online practice course that actively guides us through each practice of the seven key points of the workshop. This optional course will provide eight months of daily contemplations for integrating mind training into our everyday lives. 
---
"Tranforming Adversity and Ultimate Wisdom–Vipashayana Meditation" with Khentrul Rinpoche , March 17 – 18, 2018, in Westbrook, CT
In the third part of this series, Khentrul Rinpoche will focus on the final section of "Transforming Happiness and Suffering onto the Path". This is the practice of  transforming adversity. Rinpoche will also teach on vipashyana – profound insight meditation.


____________________________________________________________________________
"Carrying Suffering & Happiness onto the Path"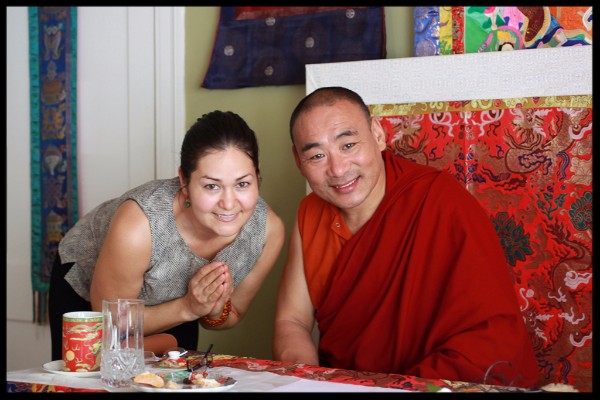 Sat. Feb 18 & Sun Feb 19, 2017–Water's Edge, Westbrook CT
Rinpoche presents some simple but profound methods that one can apply at any moment that enable you to transform our experience. These easy to understand and apply tools are directly relevant to the daily challenges we face. (It is not necessary to have attended last year's event because each day is a stand-alone teaching.)
The teaching is based upon a pith instruction written by the 3rd Dodrubchen Rinpoche (1865-1926), one of the most outstanding Tibetan saints of his time and teacher to many great masters. These gems of advice are priceless and inexhaustible treasures that you can use at any given moment to overcome adversity and create more happiness in your life, in the lives or everyone you connect with, and out into the world.
---
 

Free Public Talk, Saturday May 7, 2016 2pm with Khenchen Rinpoche 
Thomas Seminary in Bloomfield, CT (near Hartford)
The weekend seminar is closed for registration, but space is still available for the public talk by Khenchen Tsultrim Lodrö, one of the most influential Tibetan Buddhist teachers in Asia today.  He will speak about the need for both outer and inner development, and how inner development has the greater impact in transforming our lives.  

This event is free but donations are welcome at the door and all donations go towards Khenchen Rinpoche's programs for saving the lives of animals.
Learn more about Khenchen Tsultrim Lodrö Rinpoche.
---
"Quiescence and Profound Insight" meditation retreat with Khenchen Rinpoche, May 7-9

Understanding how to meditate allows us to unveil the hidden potential for happiness inherent within our minds. Khenchen Tsultrim Lodrö will give meditation  based on a text composed by Mipham Rinpoche while providing us with his own personal and unique insights for deepening our meditation practice. During this retreat, we will alternate between listening to teachings and meditation instructions.
Join us for this rare opportunity with both Khenchen Tsultrim Lodrö and Khentrul Lodrö T'hayé Rinpoche, who will also be participating in the retreat.
Dates and Times:  The retreat begins on Saturday, May 7th with check-in and registration from 8am to 9:30am  (Teachings begin at 10am). It ends on Monday, May 9th at 5pm. You can either commute or stay at the seminary.
---
"Carrying Suffering and Happiness onto the Path"   

with Khentrul Rinpoche, February 20-21, 2016, Westbrook, CT.
Khentrul Rinpoche will reveal some remarkable and little known methods for transforming adversity and cultivating greater well being in our daily lives.  The vast majority of us have never even considered using such tools to transform our experience.  This unparalleled approach is directly relevant to the modern challenges we face. The teaching is based upon a pith instruction written by the 3rd Dodrubchen Rinpoche (1865-1926), one of the most outstanding Tibetan saints of his time and teacher to many great masters. These gems of advice are priceless and inexhaustible treasures that will enable us to overcome adversity and create more happiness in our lives and in the world.  We invite everyone to attend.
---
"Finding Joy in Troubled Times" 
Public Talk, Friday, Feb 19, 2016, 7-9pm, Shoreline Unitarian Universalist Society, 297 Boston Post Rd. Madison, CT
In addition to the weekend seminar on February 20 – 21, Khentrul Rinpoche will give a separate public talk the Friday evening before, on Finding Joy in Troubled Times.  All are welcome. (You do not have to attend the seminar to attend the public talk.)
---
Nepal Earthquake Relief Slideshow and Potluck    
Sunday, Dec 6, 5pm. (Potluck following the teaching)
At the Sangha Center, 19 Fair Street, Guilford, Connecticut.
IF YOU MISSED THIS EVENT, YOU CAN NOW SEE THIS MOVING DOCUMENTARY ONLINE
Join us for a documentary slideshow of Khentrul Rinpoche's trip to the Langtang Village in Nepal on behalf of the Compassion in Actionprogram. See how your donations are being used! Please feel free to share and forward this email invitation with friends. And please bring something yummy to add to the potluck diner following the webcast.
---
"Why Not Tame the Mind? 
Sunday, Oct 4, 10am – 12:30pm. (Potluck following the teaching)
At the sangha center, 19 Fair Street, Guilford, Connecticut.
We are showing this final stand-alone session of Rinpoche's web stream teaching for those who were away during its original broadcast on Labor Day . A potluck meal will follow the teaching, so bring something yummy. 
Rinpoche is thrilled to have the opportunity to teach this inspiring treatise, titled Venerating the Distinguished Qualities of Dharma.The 2000-year-old text is a by the Indian Master To-tzun Drub Jé, who was famed for his expertise in the many philosophies of his day. But after encountering the buddhist dharma, after seeing its logical reasoning and making it his personal experience, he was moved to compose this treatise extolling how the dharma tames the mind. "Through your great arrow of timeless awareness, mind's anger has no choice but to be incinerated."
Why wouldn't anyone want to tame their mind?
---
Benefit Dinner & Cultural Show: Nepal Earthquake Relief 
Sunday, June 28, 2015 5pm to 9pm
Clark Memorial Field, Old Saybrook
While most press images of the catastrophic earthquake and aftershocks in Nepal show the damage in the Kathmandu Valley, the damage was even worse in the mountain valleys north of Kathmandu. This dinner benefit will help get aid to two of these remote areas, which are not the current focus of the government efforts and NGOs. The Rasuwa District, was especially hard hit.This is the district from which many Old Saybrook Tibetans emigrated. Many of their relatives and neighbors in Nepal have lost their homes and their fields, just as the growing season is beginning. And in the Langtang Valley ALL the villages have been completely destroyed! Survival is the ultimate challenge, especially now that the monsoon rains have started.
---
"Profound Insight Meditation" residential retreat
April 9 – 13, 2015, Bloomfield CT
Khentrul Rinpoche (at far left) gave his first teaching after coming out of a one-year retreat on the topic of profound insight meditation (vipashyana). Vipashyana, sometimes called analytical mediation, pacifies coarse and subtle disturbing emotions using the power of analysis and mental pliancy.  It integrates profound, penetrative, insight into our meditation practice: a thorough discrimination of phenomena. During the five day retreat, we had the wonderful honor of a visit and  afternoon teaching by Khenchen Tsultrim Rinpoche, a heart disciple of Khentrul Rinpoche's teacher, HH Jigmey Puntsog Rinpoche. Khenchen Rinpoche was in the U.S. and came at Khentrul's request to speak about the suffering of animals and to encourage anyone who could to stop or reduce their consumption of meat – a pledge which Khentrul Rinpoche took! 
---
"The 37 Practices of a Bodhisattva" 
Tulku Rigsang returned to Connecticut for a two-day event at our new sangha center in Guilford. His topic was "How to develop compassion, happiness, and wisdom," based on the classic text, "37 Practices of a Bodhisattva".
---
Death and Dying From a Buddhist Perspective 
June 8, 10am – noon. We will hear a recorded teaching on Death and Dying by Khentrul Rinpoche, originally given in Connecticut during a powerful time when a beloved sangha member was dying. Rinpoche addresses the Buddhist perspective on death and dying, explains the dissolution stages of the physical body and consciousness during the active dying process, and gives advice on creating a favorable environment and practices that can be done at that time.

 

June 29, 10am – noon. We'll watch a short film by a Buddhist hospice worker that gives a clear view of what we need to do to prepare. Then we will review "The Five Wishes" living will form and a supplementary Buddhist advance care directive that Paloma has created to help caregivers, family, and sangha members know how to support you in the dying process. Here are some articles and a video you can review in advance: Resources for End of Life Care in America.
---
Six practice sessions with Paloma Landry
Paloma Landry, translator for Khentrul Rinpoche, will review the various meditation practices and rituals that Rinpoche has taught over the years.
April 5: HEART SUTRA & MANTRA RECITATION
April 5: RITUAL ARTS CLASS
April 6: MANTRA ACCUMULATION & MEDITATION
April 6: TSOG PRACTICE
April 7: TONGLEN
April 8: DEATH AND DYING FROM THE BUDDHIST PERSPECTIVE 
---
Patience and Anger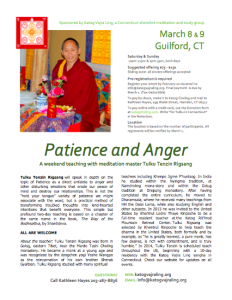 March 8 & 9, 2014, Branford, CT 
Tulku Tenzin Rigsang speaks on Patience as a direct antidote to anger and other disturbing emotions that erode our peace of mind and destroy our relationships. This is a practical method of transforming troubled thoughts into kind-hearted intentions that benefit everyone. The teaching is based on a chapter of the same name in the book, The Way of the Bodhisattva, by Shantideva.
---
The 37 Practices of a Bodhisattva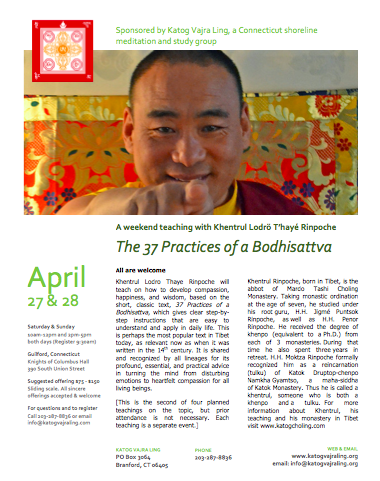 Part 11, April 27 & 28, in Guilford, Connecticut
The teaching is based on the classic Buddhist text by Ngulchu Tokme,  which is shared by all Buddhist traditions. This is the second of four teachings on the topic of how to develop compassion. It is not necessary to have attended previous talks.

All living beings are searching for happiness and trying to avoid suffering. But in our search we go about it in an incorrect way and constantly create our own suffering. This is because we are under the power of our disturbing emotions. To practice Dharma means to work with the mind and change it so that all the negative emotions are dispelled and all positive qualities are achieved.  Written in the fourteenth century, this extremely profound text contains thirty-seven essential key points of advice that are easy to understand and to apply. It elucidates the method for developing the enlightened attitude of Bodhicitta, the authentic wish to free all sentient beings from suffering, and to place them in the state of complete and perfect happiness"  – Khentrul Rinpoche
---
Mind and Mental States: a Buddhist approach to the psychology of mind
September 29 – 30, 2012, Yale University, New Haven, Connecticut
Khentrul Rinpoche will present a two-day seminar at Yale's Sterling Memorial Library on the mind and methods for working with mental states. Based on the Abhidharma, this is a classic Buddhist exploration of how mental states arise, their defining characteristics, and their effects on us and our lives. "Through understanding how the mind operates, we are better able to disengage from destructive emotional and mental habits, alleviating our own and others suffering. We are then able to cultivate and actualize wisdom and compassion and to achieve liberation from cyclic existence." — KR
---
5-day Meditation Retreat: Unifying Shamatha & Vipashyana
February 16 – 20, 2012, St. Thomas Seminary, Bloomfield, Connecticut
Shamatha (calm abiding meditation) is a method for pacifying the coarse, or perceptible, forms of disturbing emotions. Vipashyana (profound insight meditation) is what pacifies these on the subtle-most levels by integrating wisdom knowledge into our practice. This retreat will be a teaching of how to unify both shamatha and vipashyana in meditation, their meaning, as well as how to meditate correctly. "This is the kind of retreat that we absolutely must do to clarify these two indispensable key points of meditation. It will infallibly bring fruition to our practice." – Khentrul Rinpoche
---
The 37 Practices of a Bodhisattva by Ngulchu Tokme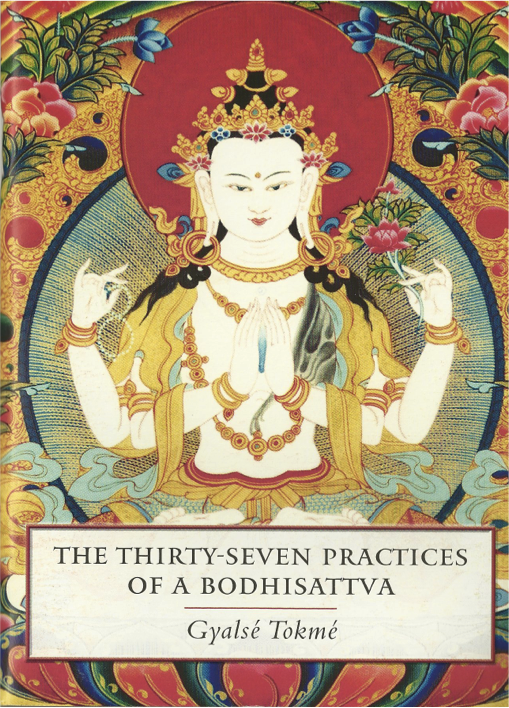 Part 1 August 20 & 21, 2011, Knights of Columbus Hall, Guilford, Connecticut
Written in the fourteenth century, this extremely profound text contains 37 essential key points of advice that are easy to understand and to apply. It elucidates the method for developing the enlightened attitude of Bodhichitta, the authentic wish to free all sentient beings from suffering, and to place them on the state of complete and perfect happiness. Khentrul Rinpoche plans four weekend teachings on this compassion practice. (The pamphlet-size text can be ordered from Tibetan Treasures.)
---
The Heart Essence of Interdependent Origination

 by Nagarguana
January 15 & 16, 2011, Knights of Columbus Hall, Guilford, Connecticut
Everything we experience as the outer world, as well as our inner mind, is due to the interdependent play of causes and conditions. In his kindness, the Buddha gave the extraordinary and special teachings on inter-dependent origination to show how confusion and suffering manifest in our personal experience and how these states can be transformed into wisdom and compassion. Khentrul Rinpoche will explain this Buddhist teaching and its relevance to meditation practice and daily life using text composed by Araya Nagarjuna, a first century Indian Buddhist master who had profound insight into the Mahayana teachings. "The practitioner who sees Interdependent Origination sees the Dharma; One who sees the Dharma sees the Buddha."~ Shakyamuni Buddha, Salistamba Sutra  (A Medicine Buddha empowerment will follow the teaching.) Those who wish to take refuge may do so at the end of the event.
---
The Heart Essence of Sublime Knowing (Heart Sutra)
January 23 & 24, 2010, The Mercy Center, Madison, Connecticut
"A spiritual journey of heart-mind, the Heart Sutra examines phenomenal perceptions of the outer world and inner aspects of our very being. It describes the realm of our own self-knowing timeless awareness, the very nature of space. The blessings of hearing the Heart Sutra recited and of receiving these teachings will invoke heart-felt compassion toward all beings. This is a rare and precious opportunity for anyone interested in learning about Vajrayana Buddhism and generating vast spriritual merit." –Khentrul Rinpoche
---
The Seven Key Points of Mind Training by Atisha
Part 1 January 27 – 28, 2007; Part II January 26 – 27, 2008; Part III January 31 -Feb. 1, 2009, The Mercy Center, Madison, Connecticut
Taming the ordinary mind is the crucial and unsurpassed foundation for bringing about both temporary and ultimate happiness through spiritual practice. The Seven Key Points of Taming the Mind, taught by the glorious pandita (scholar) Lord Atisha, are widely practiced methods for taming the mind. They are easy to apply in one's practice, possess great potency, and are extremely effective. These skillful methods of mind training [lojong] and meditation practice are complete in and of themselves.
---
Methods for Uncovering the Secrets of our Mind

 
June 21 – 23, 2008, White Memorial Conservation Center, Litchfield, Connecticut
"Our minds are filled with myriad thoughts that move ceaselessly like waves on the surface of the ocean. We are in constant turmoil and our minds are obscured, like a sky enshrouded by clouds. Thus, we cannot develop inner peace and happiness. This is the main source of suffering. If we know how to meditate correctly, we will be able to unveil the secret of our mind and thus, in this and future lives, establish a basis for happiness."  During this short residential meditation retreat, Khentrul Rinpoche will give teachings on the basic techniques of "one-pointed resting meditation (shamatha) and giving and receiving meditation (tonglen). Students will have the opportunity to meditate together as a group and there will be ample time for questions and answers.
---
Other public talks and teachings in Connecticut, 2003 – 2008
The Lamp That Dispels the Darkness; a teaching on the three turnings of the wheel of dharma, 

January 23, 2008, Buddhist House, Wesleyan University, Middletown

Meditation Training,  

April 21, 2007, Shoreline Unitarian Universalist Society, Madison

Mind Training,  

January 25, 2007, Buddhist House, Wesleyan University, Middletown

Comprehensive Explanation of Meditating on Patient Forbearance, 

Shoreline Unitarian Universalist Society, Madison

Using Kindheartedness to Carry Suffering Onto the Spiritual Path,  

March 11, 2006, Shoreline Unitarian Universalist Society, Madison

Accessing the Treasures of the Mind for Difficult Times, 

March 10, 2006, James Blackstone Memorial Library, Branford

Meditation in the Tibetan Buddhist Tradition,  

March 8, 2006, Buddhist House Wesleyan University, Middletown

The Lamp that Dispels the Darkness of Our Ignorance; a teaching on the source of peace and happiness  

September 17, 2005, Shoreline Unitarian Universalist Society, Madison

Wondrous Stories of Tibetan Saints, 

September 16, 2005, James Blackstone Library, Branford

Meditation Retreat on Calm Abiding and Loving Kindness 

April 30 & May 1, 2005, James Blackstone Memorial Library, Branford

Carrying Suffering Onto the Spiritual Path,  

April 29, 2005, Trinity Episcopal Church, Branford

The Four Immeasurable Qualities,  

April 28, 2005, Buddhist House Wesleyan University, Middletown

The Way to Search For Ultimate Truth  

November 20, 2004, James Blackstone Library, Branford

Four Immeasurable Qualities, 

 November 2003, Dwight Chapel, Yale University, New Haven