GM
At the request of his students, Khentrul Rinpoche comes to Connecticut each year, giving the shoreline community a rare opportunity to connect with an authentic spiritual lineage and teacher. Since 2003 he has helped those who have studied with him to develop a foundational understanding of buddhism. He has taught from classic texts on the topics of compassion, wisdom, mind training, and meditation practices. Join our email list to get notices of all teachings.
ALL ARE WELCOME 
*********************
New Teaching!  June 11-12, 2022 Live Webcast with Khentrul Rinpoche
Mipham Rinpoche's Three Modes of Dissolution
See Katog Choling's website for details and to register. 
______________________________________________
PAST EVENTS
April 13 & 14, 2019—Water's Edge Resort, Westbrook, CT. We suffer because we lack the the skills needed to enable our minds to remain profoundly undisturbed in the face of change and challenge. As human beings, we have the innate potential to learn, develop, refine and perfect these skills explicitly revealed to us by the Indian saint Shantideva in his The Way of a Bodhisattva (Bodhicharyavatara), one of the most revered poetic treasures of Buddhist literature. Rinpoche's teaching will focus on the sixth chapter elucidating a practice called patient forbearance that reduces our mental afflictions.  ______________________________________________________
"Daily Life as Practice: How to Train in all Situations"

Paloma Landry, 

September 22 – 23, 2018 at Katog Vajra Ling Dharma Center, Guilford, CT
Paloma Landry, Rinpoche's translator, will join us in September to go over the key points of each section extracted from the teachings Rinpoche has given us. 
Following the weekend, there will be a supportive online practice course that actively guides us through each practice of the seven key points of the workshop. This optional course will provide eight months of daily contemplations for integrating mind training into our everyday lives. 
---
"Tranforming Adversity and Ultimate Wisdom–Vipashayana Meditation"

with Khentrul Rinpoche , 

March 17 – 18, 2018, in Westbrook, CT
In the third part of this series, Khentrul Rinpoche will focus on the final section of "Transforming Happiness and Suffering onto the Path". This is the practice of  transforming adversity. Rinpoche will also teach on vipashyana – profound insight meditation.
____________________________________________________________________________
"Carrying Suffering & Happiness onto the Path" Part 2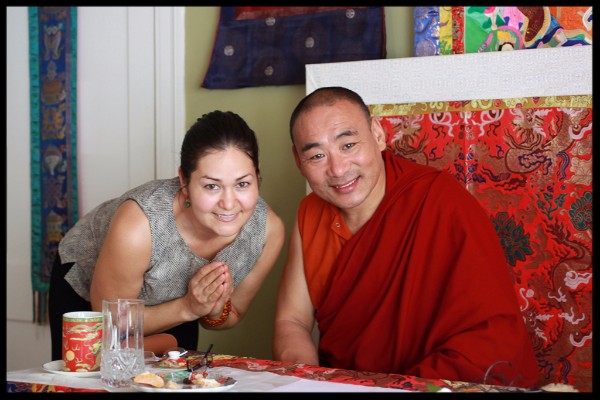 Sat. Feb 18 & Sun Feb 19, 2017–Water's Edge, Westbrook 
The teaching is based upon a pith instruction written by the 3rd Dodrubchen Rinpoche (1865-1926), one of the most outstanding Tibetan saints of his time and teacher to many great masters. These gems of advice are priceless and inexhaustible treasures that you can use at any given moment to overcome adversity and create more happiness in your life, in the lives or everyone you connect with, and out into the world.
---
Other teachings, public talks and events in Connecticut, 2003 – 2016 (Teachings were by Khentrul Rinpoche unless otherwise specified)
Quiescence and Profound Insight residential retreat, May 7, 2016, taught by Khenchen Tsultrim Rinpoche and Khentrul Rinpoche, May 7-9, 2016, St. Thomas Seminary, Bloomfield
Carrying Suffering and Happiness onto the Path, Part 1, February 20-21, 2016, Water's Edge, Westbrook
Finding Joy in Troubled Times, public talk, February 19, 2016, Shoreline Unitarian Universalist Society, Madison
Benefit Dinner & Cultural Show: Fundraiser for Nepal Earthquake Relief, June 28, 2015, Clark Memorial Field, Old Saybrook
Profound Insight Meditation residential retreat, taught by Khentrul Rinpoche with a visit and afternoon teaching by Khenchen Tsultrim Rinpoche, April 9-13, 2015, St. Thomas Seminary, Bloomfield
The 37 Practices of a Bodhisattva: How to Develop Compassion, Happiness, and Wisdom, taught by Tulku Tenzin Rigsang, 2014, KVL Dharma Center, Guilford
Death and Dying from a Buddhist Perspective, (Recorded teaching by Khentrul Rinpoche, and presentation by Paloma Landry of "The Five Wishes" advance care form and directive), June 8 & 29, 2014, KVL Dharma Center, Guilford
Six Practice Sessions (Heart Sutra recitation, Ritual arts, Mantra Accumulation & Meditation, Tsog practice, Tonglen, Death & Dying from the Buddhist Perspective), taught by Paloma Landry, translator for Khentrul Rinpoche,  April 5-8, 2014
Patience and Anger, taught by Tulku Tenzin Rigsang, March 8-9, 2014, Branford
The 37 Practice of a Bodhisattva, Part 2, April 27-28, 2013, Guilford
Mind and Mental States: A Buddhist Approach to the Psychology of Mind, September 29-30, 2012, Yale University, New Haven
5-Day Meditation Retreat. Unifying Shamatha & Vipashyana, February 16-20, 2012, St. Thomas Seminary, Bloomfield
The 37 Practices of a Bodhisattva by Ngulchu Tokme, Part 1, August 20-21, 2011, Knights of Columbus, Guilford
The Heart Essence of Interdependent Origination by Nagarjuna, January 15-16, 2011
The Heart Essence of Sublime Knowing (Heart Sutra), January 23-24, 2010, The Mercy Center, Madison
The Seven Key Points of Mind Training by Atisha, Part 1 January 27-28, 2007; Part 2 January 26-27, 2008; Part 3 January 31-Feb. 1, 2009, The Mercy Center, Madison
Methods for Uncovering the Secrets of the Mind, June 21-23, 2008, White Memorial Conservation Center, Litchfield, Connecticut
The Lamp That Dispels the Darkness; a teaching on the three turnings of the wheel of dharma, 

January 23, 2008, Buddhist House, Wesleyan University, Middletown

Meditation Training,  

April 21, 2007, Shoreline Unitarian Universalist Society, Madison

Mind Training,  

January 25, 2007, Buddhist House, Wesleyan University, Middletown

Comprehensive Explanation of Meditating on Patient Forbearance, 

Shoreline Unitarian Universalist Society, Madison

Using Kindheartedness to Carry Suffering Onto the Spiritual Path,  

March 11, 2006, Shoreline Unitarian Universalist Society, Madison

Accessing the Treasures of the Mind for Difficult Times, 

March 10, 2006, James Blackstone Memorial Library, Branford

Meditation in the Tibetan Buddhist Tradition,  

March 8, 2006, Buddhist House Wesleyan University, Middletown

The Lamp that Dispels the Darkness of Our Ignorance; a teaching on the source of peace and happiness  

September 17, 2005, Shoreline Unitarian Universalist Society, Madison

Wondrous Stories of Tibetan Saints, 

September 16, 2005, James Blackstone Library, Branford

Meditation Retreat on Calm Abiding and Loving Kindness 

April 30 & May 1, 2005, James Blackstone Memorial Library, Branford

Carrying Suffering Onto the Spiritual Path,  

April 29, 2005, Trinity Episcopal Church, Branford

The Four Immeasurable Qualities,  

April 28, 2005, Buddhist House Wesleyan University, Middletown

The Way to Search For Ultimate Truth  

November 20, 2004, James Blackstone Library, Branford

Four Immeasurable Qualities, 

 November 2003, Dwight Chapel, Yale University, New Haven